Toni Morrison has died at the age of 88, and the language she did is the measure of her life.
What better time to read the wise words of her 1993 Nobel Prize lecture than now?
"The old woman is keenly aware that no intellectual mercenary, nor insatiable dictator, no paid-for politician or demagogue; no counterfeit journalist would be persuaded by her thoughts. There is and will be rousing language to keep citizens armed and arming; slaughtered and slaughtering in the malls, courthouses, post offices, playgrounds, bedrooms and boulevards; stirring, memorializing language to mask the pity and waste of needless death. There will be more diplomatic language to countenance rape, torture, assassination. There is and will be more seductive, mutant language designed to throttle women, to pack their throats like paté-producing geese with their own unsayable, transgressive words; there will be more of the language of surveillance disguised as research; of politics and history calculated to render the suffering of millions mute; language glamorized to thrill the dissatisfied and bereft into assaulting their neighbors; arrogant pseudo-empirical language crafted to lock creative people into cages of inferiority and hopelessness.  Underneath the eloquence, the glamor, the scholarly associations, however stirring or seductive, the heart of such language is languishing, or perhaps not beating at all – if the bird is already dead."
Read the speech in full here.
---
while on the subject of language
A statement from President Barack Obama, posted on twitter on 5 August 2019, in aftermath of deadly mass shootings in El Paso, Texas and Dayton, Ohio.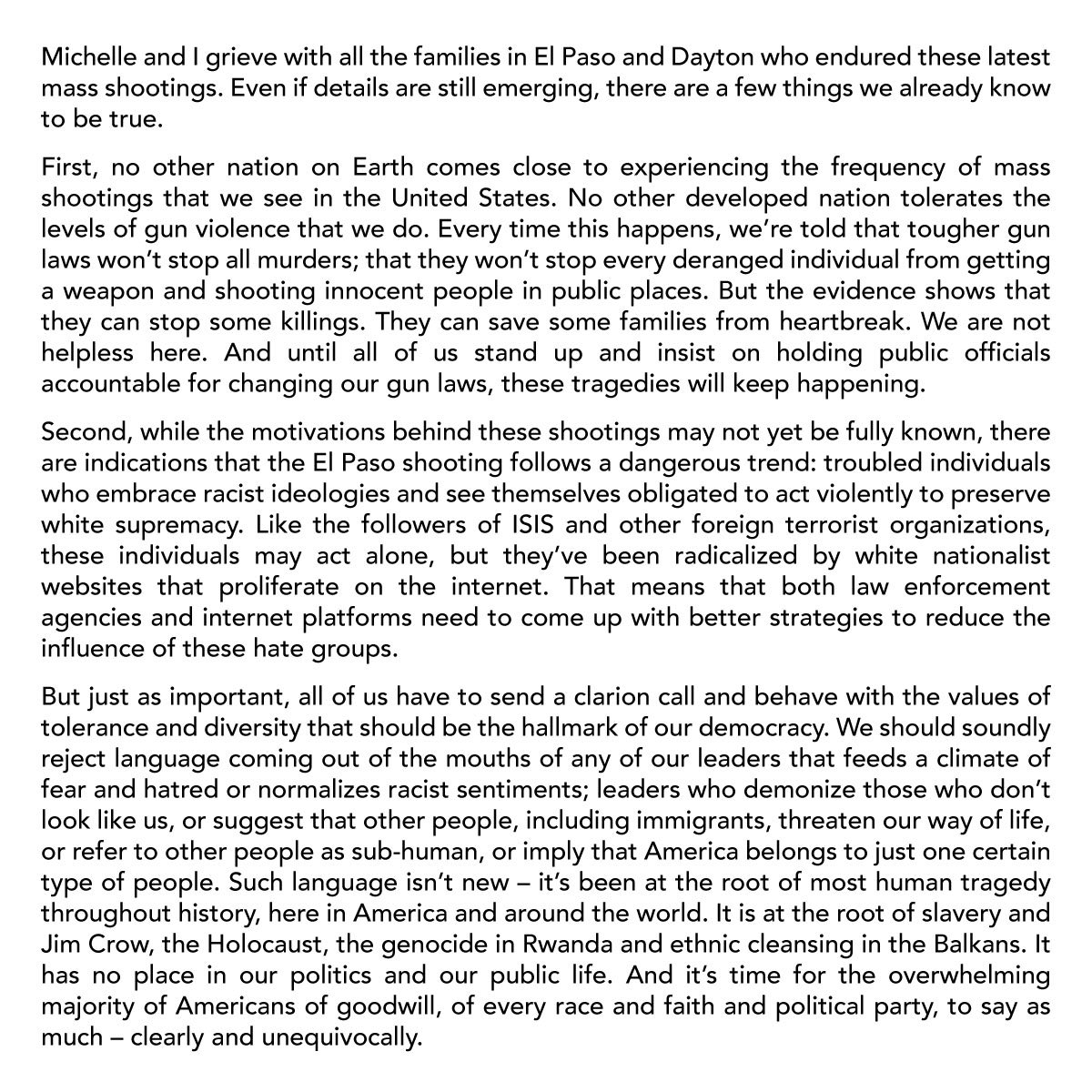 ---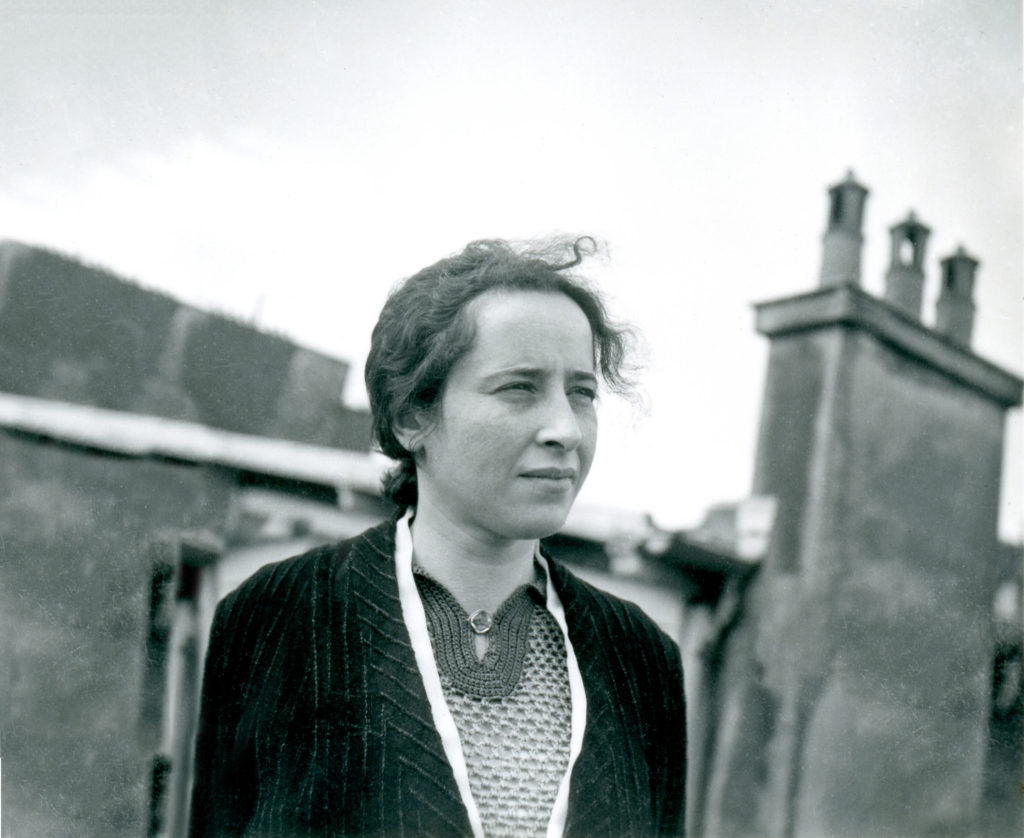 "A refugee used to be a person driven to seek refuge because of some act committed or some political opinion held. Well, it is true we have had to seek refuge; but we committed no acts and most of us never dreamt of having any radical opinion. With us the meaning of the term "refugee" has changed. Now "refugees" are those of us who have been so unfortunate as to arrive in a new country without means and have to be helped by Refugee Committees …"
I belatedly came across this beautiful essay by Arendt, titled simply "We Refugees," which was first published in January 1943 and unfortunately remains as relevant as ever.  Full text here.
While we are at it, here are a number of other attempts to characterize a refugee, from a conversation among people fleeing France on a boat from Bayonne to Casablanca at the end of June 1941.  The conversation is related in Adolf Hoffmeister's book Unwilling Tourist, a lightly fictionalized account of his own experience during WW2, which was originally published in New York in 1941 the title The Animals Are in Cages:
"The refugee is a homeless man who searches everywhere he goes for that which he has lost in some far-distant place.  And the officers keep saying: 'Now you're warm.  Warmer.  Still warmer. Hot!  No … colder … still colder …'"
            "The refugee is the one honest man whose papers can never be in order, and, therefore, the police constantly demand that he show them."
            "A refugee is a man who embarrasses only those who have not yet been refugees."
            "A refugee is an unwilling tourist."
            "Being a refugee is the occupation of the patriot, for the time being."
            "A refugee is one who runs from country to country with but one desire—to sit quietly at home."
            "A refugee is one who runs away because he has done something good.  So each port he enters suspects, a priori, that he will do something bad."
            "A refugee is the poor relative who likes to tell over and over how rich he was."
            "The refugee is the man forever on his way home."
            "The refugee is the too-faithful lover, who, fleeing through the world, loses each new love when he calls her by the name of his beloved wife."
            "The refugee is a man with a center of gravity outside his body."
            "The refugee is a being without money or fatherland, but with, alas, a body."
            "A refugee is a lover who abandons his love, wanting her only the way she used to be."
            "The refugee is the man who cannot stay at home because he belongs sometimes to yesterday, sometimes to tomorrow, but never to today."
---
"There is no worse affliction than the loss of a person's private language, its replacement with the communal one. Politicians, officials, academics, and priests may all suffer from this. And the only possible form of therapy for this affliction is literature: coming into contact with the private languages of artists permits the reader to strengthen her resistance to an instrumentalizing vision of the world. This is a powerful argument for reading literature (the classics, too), for literature demonstrates that collective languages once functioned differently, and in conjunction with this, other visions of the world arose. It is precisely because of this that it is worth reading—in order to behold those other visions and to be reassured that our world is only one of many possible worlds and that we are surely not confined to it forever.
The responsibility of the translator is equal to that of the writer. Both stand guard over one of the most important phenomena of human civilization—the possibility of transmitting the most intimate individual experience to others, and of making communal that experience in the astonishing act of cultural creation."
From Olga Tokarczuk's essay How Translators Are Saving the World
---
"Eastern Blocks is a photographic journey through the cityscapes of the former Eastern Bloc, inviting readers to explore the districts and peripheries that became a playground for mass housing development after WW2, including objects like houses 'on chicken legs', soviet 'flying saucers' or hammer-shaped tower blocks.
Showcasing modernist and brutalist architecture scattered around the cities of Moscow, (East) Berlin, Warsaw, Budapest, Kyiv and Saint Petersburg, the book contains over 100 photographs taken by Zupagrafika throughout the last decade as a reference archive for their illustrated books and kits, with special contributions by local photographers. Divided into 6 chapters, Eastern Blocks includes a foreword by writer and journalist Christopher Beanland, orientative maps, index of architects and informative texts on the featured cities and constructions."
---
"Rows of glossy black tiles glisten in the afternoon sun, dripping down the facades like a neatly controlled oil slick. They cap a long row of milky brick houses, whose walls curve gently around the corners at the end of the street, dissolving into perforated brick balustrades, marking the presence of hidden rooftop patios. A planted alley runs between the backs of the terraced houses, dotted with communal tables and benches, where neighbours are sitting down to an outdoor meal.
This is Goldsmith Street, a new development of around 100 homes, built by Norwich city council, without a profit-hungry developer in sight. They are not homes that fit into the murky class of "affordable", or the multitude of "intermediate" tenures. This is proper social housing, rented from the council with secure tenancies at fixed rents. Not only that, it is some of the most energy-efficient housing ever built in the UK."
Guardian
---
The English surrealist and documentary filmmaker Humphrey Jennings explained the intellectual project of his book Pandaemonium as to "present, not describe or analyse" the "imaginative history of the Industrial Revolution … by means of what I call Images.  These are quotations from writings of the period in question … which either in the writing or in the nature of the matter itself or both have revolutionary and symbolic and illuminatory quality.  I mean that they contain in little a whole world—they are the knots in a great net of tangled time and space—the moments at which the situation of humanity is clear—even if only for the flash time of the photographer or the lighting."  
These fragments are intended to function in the same way.  Click on the headings to go to the original articles, which are mostly from the mainstream aka fake news media.