Geoffrey James, End of the Fence, looking West, Otay Mesa, from the series Running Fence, 1997, gelatin silver print, 76.3 x 84 cm; image: 46.1 x 57.9 cm, CMCP Collection, National Gallery of Canada  Ottawa. © Geoffrey James. Photo : NGC
"Frontera: Views of the U.S.-Mexico Border brings together a roster of national and international artists, whose works question the very notion of borders, attempt to define their edges, and explore their representation. The exhibition, organized by Luce Lebart in collaboration with the FotoMexico festival, is on view in the Canadian Photography Institute Galleries of the National Gallery of Canada.
The exhibition takes its title from Frontera, a series of photographs by Mexican photographer Pablo López Luz. Shot from a helicopter in 2014 and 2015, these aerial images reveal the meandering course of the dividing line between the two neighbouring countries. The border, easily identifiable in many of the images, is invisible in others. Along the base of mountain ranges the frontier seems a trail of lacerations in the landscape, while in desolate terrains it merges and finally disappears into a network of lines. In places the border takes the form of different kinds of fencing, while elsewhere it is embodied in architectural structures that are both imposing and dissuasive. Along its entire length, the border is one of harsh landscape that deters crossings.
'Is this Mexico, or is it the United States?" comments Lebart. "It is often impossible to distinguish one side from the other. But Pablo López Luz's images systematically reveal a key identifying feature: the presence of a road running along the border, used by the US Border Patrol for surveillance.'"
---
The Daily Telegraph reports that "The University of Oxford has apologised after an image of a female cleaner being made to clear a message reading "Happy International Women's Day" was shared on Twitter by a professor.
Oxford Associate Professor of Political theory, Dr Sophie Smith, tweeted the photograph, writing: "Oxford security makes a woman cleaner scrub out 'Happy International Women's Day' on the Clarendon steps. What an image for #IWD, @UniofOxford."
Sometimes a picture is worth a thousand words …
---
South London comes to the Big Apple
New York was recently invaded by South London, mostly not white.  "The concert – a showcase of British jazz held at downtown club Le Poisson Rouge – was America's introduction to a small but mighty group of young musicians who during the past three years have helped turned South London into a new jazz epicenter," reports Rolling Stone.  "There was tenor saxophonist Shabaka Hutchings, at 33 the scene's elder statesman … Also on tenor was Nubya Garcia, whose quartet embraced classic postbop, but with a fiery group interplay that transcended rote chorus-solos-chorus structures …
"It's a strange word, 'jazz,'" Hutchings tells Rolling Stone two days after the showcase, when asked if he'd describe his own music that way. Born in London but raised in his parents' native Barbados, Hutchings picked up the clarinet at nine, practicing it by mimicking the flows of Nas, Biggie and Tupac verses he was hearing on American radio, and the hyper rhythms of the local Carnival, before returning to England to receive a classical-music degree on the instrument … "The people I revere as master jazz musicians have said they don't want the word," he continues. "It's limiting. It tells them more what they can't be than what they can. So – do I consider myself a musician who is limited?"
Like Hutchings, his younger colleagues – first- and second-generation Afro-Caribbean immigrants, multi-hyphenated in their cultural backgrounds and in their music – uniformly reject a narrow definition of their chosen style. London's sound is less a riff on classic African-American jazz than a polyglot party music of the city's minorities – with calypso and dub, grime and Afrobeat as much its building blocks as Coltrane's 'Giant Steps.'"  Long live multiculturalism.
---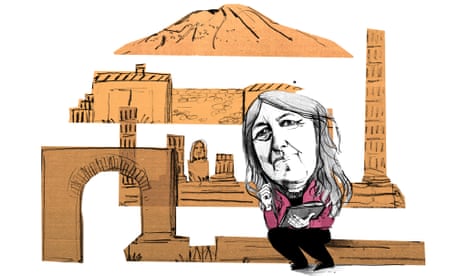 Oxford's faux pas brought to mind slightly older news from Cambridge, which I didn't post here at the time because other things crowded it out that week.
Commenting on the Oxfam Haiti scandal, Cambridge Professor of Classics and well-known media personality about town Mary Beard caused uproar when she tweeted:  "I do wonder how hard it must be to sustain 'civilised' values in a disaster zone."  She made things worse on a follow-up post on her regular TLS blog "A Don's Life," where she drew an unfortunate analogy between aid workers in Haiti and the boys abandoned on a desert island in William Golding's Lord of the Flies.  She later tweeted an image of herself in tears, saying "I am really not the nasty colonialist you say I am" …
In a public response, Cambridge English lecturer Priyamvada Gopal urged Beard "to rethink the problematic concept of a 'disaster zone' (Trump was more upfront — he called them 'shitholes') and what that really means in geopolitical terms in terms of who does what and who is responsible for their appearance as spaces of catastrophe. Still more troubling," she continued, "is your notion that moral bearings ('civilised values'!) understandably disappear in spaces where people struggle with the worst things that can happen to human beings."   She described Beard's tweet as symptomatic of the culture at Cambridge "where there is little direct abuse but plenty of genteel and patrician casual racism passing as frank and well-meaning observations …"
Gopal got a lot of flak for daring to call out "a national treasure," including a dressing-down from Times columnist David Aaronovitch, who accused her of being "a privileged Oxbridge academic shivving a colleague."
---
Update
, 15 June 2018.  Mary Beard was made a Dame in the latest Queen's Birthday Honours List.  Coincidence? Or is it a genteel reminder that the subaltern should keep her mouth firmly shut?  Even if—or perhaps especially if—she is what Niall Ferguson
has described 
in the Spectator as "an obscure Cambridge lecturer."
---

Photograph: Fabio de Paolo/Fabio De Paola
Rufaro Chisango, a student at Nottingham Trent University, posted a video on Wednesday in which a group of men can be heard chanting outside her student dorm room "we hate the blacks" and "sign the Brexit papers," reports the Guardian.
"Words cannot describe how sad this makes me feel, in this, 2018, people think this is still acceptable," she wrote on Twitter …
In the footage, a group of men can be heard chanting "ooh-aah, fuck the blacks", "we hate the blacks" and "sign the Brexit papers".  Chisango said the video did not catch other phrases the men shouted, such as "blacks would go back to picking cotton". She wrote on Twitter: "I'm the only black person on my floor and they were chanting this outside my door, so don't be surprised to why I didn't leave my room."
Nottingham Trent was named University of the Year in the 2017 Times Higher Education awards, and Modern University of the Year in the 2018 Times and Sunday Times awards.
---
The English surrealist and documentary filmmaker Humphrey Jennings explained the intellectual project of his book Pandaemonium as to "present, not describe or analyse" the "imaginative history of the Industrial Revolution … by means of what I call Images.  These are quotations from writings of the period in question … which either in the writing or in the nature of the matter itself or both have revolutionary and symbolic and illuminatory quality.  I mean that they contain in little a whole world—they are the knots in a great net of tangled time and space—the moments at which the situation of humanity is clear—even if only for the flash time of the photographer or the lighting."  
These "snippets" are intended to function in the same way.  Click on the headings to go to the original articles, which are mostly from the mainstream aka fake news media.